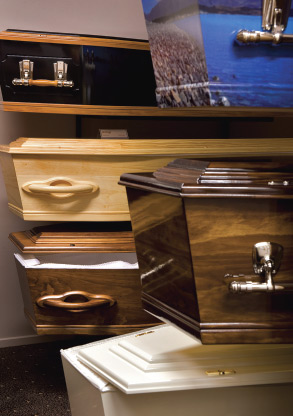 The funeral director will assist you when choosing a casket, and will usually do so from Paterson's casket catalogue. Alternatively you may visit our offices and view a casket selection if you wish.
Caskets or coffins – what's the difference?
Coffin is the term that has traditionally been used in England and refers to a shaped casket that is wider at the shoulders and more pointed at the feet. A casket is an oblong (rectangle) shape and commonly seen in the United States of America. In New Zealand we use casket to describe both shapes as it is seen as a more modern and less oppressive word.
Our casket range
We provide a variety of caskets including solid timber or particleboard/MDF. There are many options when considering the finish of the caskets, such as: solid rimu, macrocarpa, mahogany, or pine, rosewood finish, or veneers. Caskets have either a flat or a raised lid, and can also be painted in any colour you choose. There is also a range of caskets available with vinyl transfers that you may choose if they reflect the personality of the person who has died.
CLICK HERE TO VIEW OUR CASKET AND URN BOOK
After the funeral – the ashes
As part of the process of planning a cremation with you, Paterson's will discuss the options available for keeping, scattering interring cremated remains (commonly referred to as ashes). Attendance of family and friends at the interment of ashes is welcomed and encouraged. We can also assist with the scattering of ashes or the transportation of them to other places.
Following a cremation, the ashes are placed in a plastic urn inside a plain cardboard box. This is suitable for storage if you choose to scatter the ashes at a later date.
If you decide to keep the cremated remains at home or if you wish to inter them, you may choose to have them placed in a more attractive and decorative urn.
Our urns are similar to the casket range and can be made of solid wood or painted. Alternatively you may choose from a range including resin, marble or metal. There are many sizes, designs and materials available.
You may also choose to supply your own container into which we will transfer the ashes.